How to Remodel a Walk-In Closet to Make More Space
If you're lucky enough to live in a St. Paul or Minneapolis home with walk-in closets, you already know how nice it is to have this separate space from your bedroom. It's a space out of sight to store your clothes, and it also gives you additional privacy as a dedicated space to get dressed. That being said, if the walk-in closet was part of the home before you moved in, it may not be suitable for your needs. Not sure how to remodel a closet? You're in luck! The professionals at Twin Cities Closet Company can remodel your walk-in closet to create the custom space of your dreams!
How Can I Customize My Walk-in Closet?
Any bedroom closet remodel is going to have a goal of maximizing space. Whether you're doing a small master closet remodel, or you've got a larger space like a spare bedroom to work with, we will help design a layout that will ensure you get the most out of your walk-in closet. Here are the 3 considerations you should make when deciding how to remodel your closet.
What needs to fit?
What style should the shelves and drawers be?
Does it fit your preferred aesthetic?
What Else Should I Consider for My Bedroom Closet Remodel Design?
Take Inventory
A great starting point is to take inventory of the belongings you want to store in this closet. Since most walk-in closets are in the master bedroom, this probably means all or most of your clothing, shoes, any accessories, and any other belongings you want to keep here. Once you have your inventory list top of mind, closet experts can help you figure out the best layout for your future walk-in closet.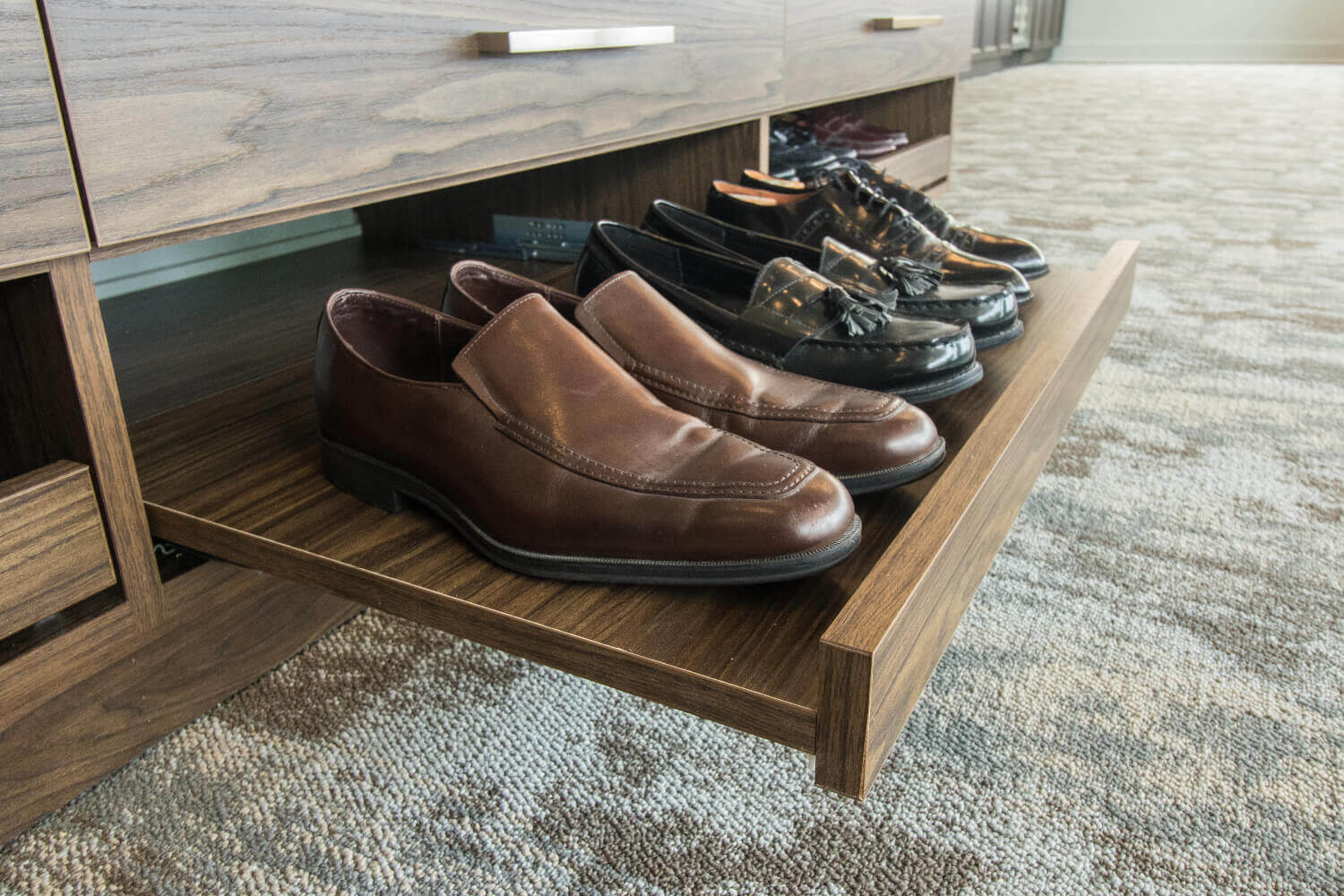 Customization is Key
Closet customizations can include shelving, hanging rods, and different drawer options. If you're doing a remodel of a small walk-in closet, you'll probably opt for a hanging rod towards the top sections of your closet, and then drawers or shelves underneath. If you've got a little more space, you might want floor-to-ceiling shelving on one wall, with different levels of drawers in another part. Customization of your new walk-in closet is totally up to you.
Don't worry about existing outlets, baseboards, radiators and other permanent fixtures in the space. We can work and cut around them so they can stay exactly where they are.
Take Advantage of Aesthetics
Not sure how to remodel your closet when it comes to looks? Customizing the layout can be fun, but choosing the aesthetics is where your creative side will really come into play! With so many different design options, you can choose to have your remodeled walk-in closet be cohesive with the rest of your home, or a completely different style.
Part of closet customization is choosing your favorite materials. From traditional to contemporary, you get to choose the latest trending materials for custom dressing rooms including Walnut, Skye, White and Ember. Which material you decide on will set the whole unique feel of your walk-in closet.
Whether you're using them for utility or for looks, LED lights are a great addition to your walk-in closet. From an aesthetic standpoint, you'll be able to show off not only your clothing and other items, but also your newly remodeled walk-in closet.
In addition to light, another factor that affects the aesthetic of any space is paint color. Whether you have a color in mind or would like a professional opinion, experts can make sure the paint in your walk-in closet is meticulously done. Crisp, lighter paint colors will allow for your space to appear bigger, while darker colors can create a warm and cozy aesthetic.
How Can I Improve My Small Walk-in Closet?
If your walk-in is on the smaller side, do not worry! Closet remodelers know all about space optimization. A small master closet remodel means getting creative with different shelving and hanging options. For example, if shoes are strewn on the floor and are crowding space, a shelving unit on the bottom would be a good solution. But if you're storing gowns or suits, a full-length hanging space is necessary. Depending on the size of your space and your storage needs, you'll have the best solution for your small walk-in closet.
Stop Dreaming of Your Dream Walk-in Closet
The closet remodeling experts at Twin Cities Closet Company can help you make your remodeled walk-in closet dreams a reality. Ready to get started? Explore our other custom closet installations and contact us today for a complimentary consultation!