Custom Walk-In Closet Systems
More than just a closet.
Your Dream Dressing Room
Convert your spare room or extra-large bedroom closet into a walk-in closet designed just for you. Custom walk-in closets from Twin Cities Closet Company are designed, manufactured and installed with only you in mind. They often have drawers, a place for laundry, baskets, plenty of hanging and shelves that are perfect for neatly storing clothes, shoes, ties, belts, purses and accessories. Beauty and functionality go hand in hand with a custom closet system crafted especially for you.
Upgrade an existing closet: Not all walk-in closet systems are created equally, and with a newly renovated storage space from our experts, you will immediately notice a difference. While the dimensions of your closet might remain the same, its functionality will be vastly improved.
Create a closet from scratch: Whatever your starting point, we can help you plan and realize the walk-in closet of your dreams. We have experience converting many types of rooms into walk-in closets, including spare bedrooms, bathrooms and more.
Customize your dressing room: We start every project by listening closely to our customers' unique needs and wants for their storage spaces. Because we handle every part of the process from design to installation, we can tailor every square inch of your storage.
Aesthetic advantages: We always build with the most luxurious and durable materials, because there is a big difference between a closet that's simply good enough and one that wows.
No middlemen, no hassle: Our full-service approach ensures that no part of your design vision will be lost in translation — from design to manufacturing to installation, you can count on our detail-oriented experts.
Accessories
Double Jewelry Drawer
Velvet-lined storage trays to properly store your fine jewelry inside a drawer.
Custom Partition
Existing outlets, baseboards, radiators and other fixtures can stay exactly where they are. We can cut around them.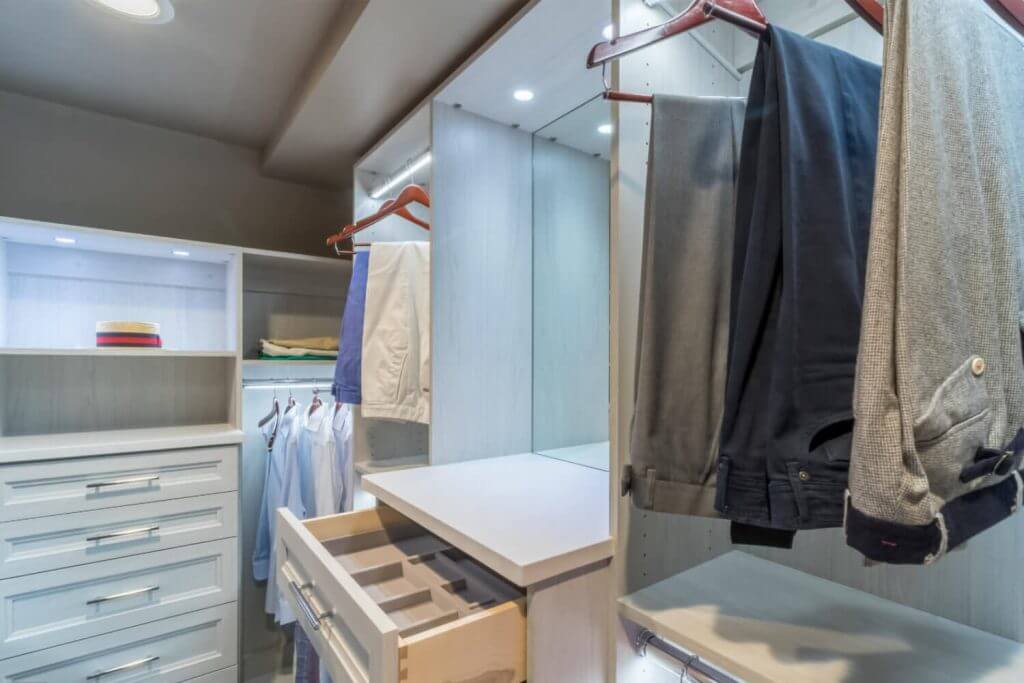 LED Lighting
Illuminate your space with LED lights. Lighting allows you to not only see your items, but show them off as well.
Tilt Hamper
Keep your dirty laundry accessible but out of sight with a tilt hamper. Finished with a matching door front, this is a beautiful addition to your closet.
Trending Materials
Twin Cities Closet Company upholds our promise of complete customization for every inch of your custom walk-in closet. From traditional to contemporary, we offer trending materials for custom dressing rooms including Walnut, Skye, White and Ember.
Want to see our building materials for yourself? Visiting one of our showrooms provides a great opportunity to get a feel for different building materials and features. Find your nearest showroom to get started!


Request A Complimentary Consultation
Make space for your…life!