Custom Bedroom Wall Storage, Built-In Cabinets & Shelves
Make the most of your bedroom space with wall storage units.
Go Beyond Your Closet Space
Out of every room in your home, your bedroom takes priority. Why? Because it's your oasis. It's the place where you relax, rest and recharge. Why let clutter ruin that for you?
Here at Twin Cities Closet Company, we create organizational spaces that help maintain that peace you crave when you enter your room. Considering storage solutions beyond the walls of your closet allows you to find a place for everything.
Maybe bedroom wall units will provide you with a place to organize your pile of nighttime reading materials. Or perhaps you're looking for bedroom storage cabinets to keep your extra quilts neatly folded but close at hand. Maybe you just need more room for your clothes. We get it because We're in the business of creating more space for your daily life. Are you ready to move beyond your closet? Do you have an organized vision for your bedroom? Choosing Twin Cities Closet Company for any Minnesota bedroom wall storage services can bring all your dreams to life.
From design to installation, we care about your space. We use the best building methods and materials in the market to create customized bedroom wall storage solutions that adapt to your home.
Perfecting Your Bedroom Wall Storage Design
Do you have a vision? Maybe you know exactly what you want your bedroom wall units to look like and what you'll use them for. Then again, maybe you just can't picture what your ideal built-ins will look like. Whether you have every detail visualized or require help deciding on bedroom storage solutions, our designers are ready to develop a plan you'll love.
Before building, our design experts mock up your ideas with 3D renderings for a realistic representation of your future storage space. This helps you get an idea of the final product while giving you the opportunity to make any minor adjustments or decisions.
Whether we are crafting a nightstand, vanity, under-bed storage, shelves, or wall storage cabinets for your bedroom, our bedroom storage installation services will ensure that your Minnesota home has a storage solution that's both beautiful and functional.
Bedroom Wall Storage Options
With Twin Cities Closet Company, options for customization are endless. Our expert designers will assist you in selecting the perfect materials and finishes for your bedroom storage cabinets, shelves, and more. Visit our Mound Showroom or Minneapolis showroom to take a look at the endless selections and fully experience the superiority of the materials used to craft customized bedroom wall storage.
Bedroom Wall Storage Accessories
Drawer Dividers
Drawers a little too disorganized? Add drawer dividers for neat organization in our bedroom wall storage systems.
Vanities
Beautify your space with a custom-made vanity to match your bedroom wall storage solutions.
Under-Bed Storage
Bedroom wall units aren't the only bedroom storage favorite. Keep the clutter away with under-bed storage that's kept out of sight and out of mind.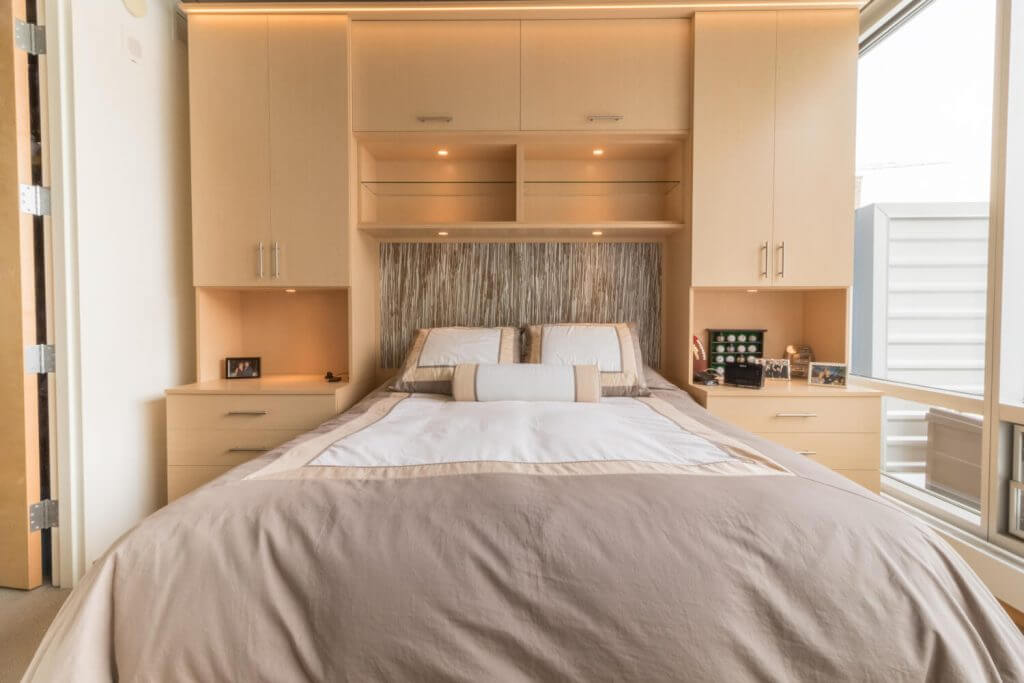 Nightstands
Cozy up your bedroom with a custom-made nightstand, fitted for your night-time glass of water, favorite book, reading glasses and more.
Request A Complimentary Consultation
Based in the heart of Minnesota, our bedroom wall storage services start with a conversation with a team that knows what our fellow Minnesotans are looking for. Start the conversation today!