Meet The Team
Our entire team is carefully selected for their experience and unmatched skill sets. When you choose us as your partner in customization, you're choosing a local, family-owned business who lives and breathes our core values: dedication, innovation, high-quality, client-focused and solution-based. Our entire team adheres to and believes in our values. Our customers and their projects are taken care of in a professional, efficient and friendly manner. We believe that nothing beats working with a local company and feeling the pride that comes with being an integral part of our team.
Contact us at (612) 623-0987 or email us at sales@tcclosets.com to see how our closet experts can assist you today!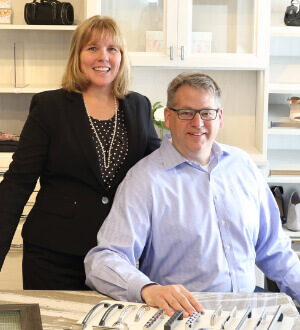 Jeanne and Jim Myers Owners
Jim has been in the custom closet industry since 1991. In 2001, he founded TCCC with a goal to have a locally owned custom closet and cabinet business that would be known for top-quality work at a fair price. Jim's success is largely based on his choice of employees who create unique, interesting designs, precise manufacturing and quality installation. Jeanne became Jim's partner in 2010 and brought along her skills in marketing and customer service. She handles marketing, finances and human resources. Together, Jeanne and Jim have grown TCCC into a leader in the custom closet industry by assembling a team of individuals who pride themselves on their excellent work ethic. They oversee all operations at TCCC to ensure customers are receiving the absolute best quality and service.
Request A Complimentary Consultation
Making space for your…life!