Custom Reach-In Closet Designs
Reach-in closet designs, created for even the smallest spaces
Bedroom, Linen, and Entryway Custom Reach-In Closet Designs
If you're looking for custom systems for small reach-in closets in Minnesota, Twin Cities Closet Company can maximize your space with a well-designed remodel. Storage options for our custom reach-in closet designs include long-hang, medium-hang, double-hang, drawers, baskets, shelves and accessories. Whatever your storage needs, we have an attractive and functional solution that makes sense for your Minnesota home, including custom reach-in closets for small spaces.
Transform your closet: Many of our clients in Minneapolis-St. Paul come to us with a reach-in closet that only has a rod-and-shelf or wire system. With custom reach-in closet design ideas from Twin Cities Closet Company, you can amplify your hanging space by adding shelves, drawers and baskets.
Create new storage: Our experience allows us to strategically plan and design a custom reach-in closet systems remodel from the ground up. We make the most out of every square inch of space, crafting optimal custom reach-in closets, even for small spaces.
Custom organization solutions: Because we manufacture our reach-in closets at our own facility with the latest technology, we can customize every facet of your remodel's design, creating a closet tailored to your life. Twin Cities Closet Company can also help with reach-in closet lighting.
Style comes standard: We are always available to help you choose striking building materials and features for your reach-in closet systems if you need some guidance with your custom design.
One team from start to finish: Throughout the design, manufacturing and installation phases of your custom reach-in closet redesign, we serve as a single source. Every member of our team is an actual employee and not a subcontractor, and we only hire those who have a true passion for their craft.
Reach-In Closet Accessories
Pull-Out Wire Baskets
Ideal storage for clothing and shoes. Portability and visibility allow for easy access to contents while optimizing your custom reach-in closet remodel.
Drawer Dividers
The ultimate feature idea for Marie Kondo enthusiasts and a must-have for your reach-in closet design. Organization to store your items in a clutter-free fashion.
Jewelry Organizers
Hang your necklaces in style so they don't tangle in your closet. This is a great solution for long necklaces that pair with your wardrobe.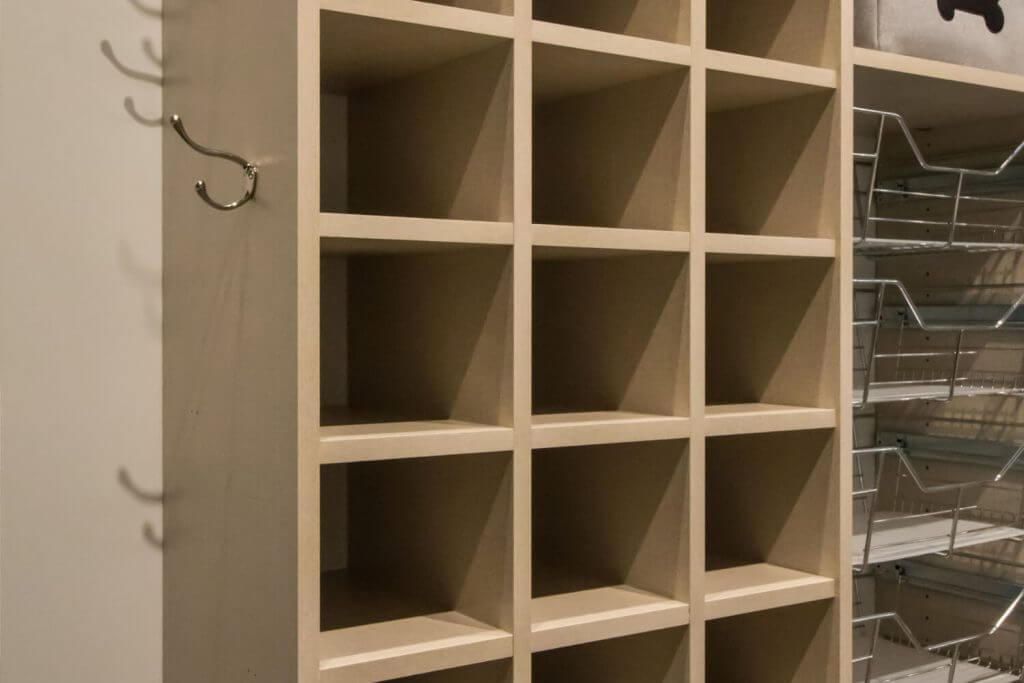 Vertical Dividers
Easily store your clothing, wallets or shoes in your small custom closet.
Trending Materials for Custom Reach-In Closets
Twin Cities Closet Company upholds our promise of complete customization for every inch of your reach-in closet with a seamless design process. From traditional to contemporary, we offer trending materials for your custom reach-in closet remodel including White, Gregio Pine, Skye and Hardrock Maple. We also offer lighting for a more detailed look at your custom reach-in closet interior.
Sometimes, the best way to decide on a material for your custom reach-in closet remodel is to see it in person. Ready to get started bringing your design ideas to life with a reach-in closet remodel? Visit your nearest Minnesota showroom in Minneapolis or Mound to start exploring your custom reach-in closet design options. We're here to help you find the best fit for your space.

Request A Complimentary Consultation
Make space for your…life!