Custom Reach-In Closet Design & Renovation
Reach-in closet designs, customized for even the smallest spaces
Bedroom, Linen, and Entryway Custom Reach-In Closet Renovation
If there's one thing the team at Twin Cities Closet Company can promise, it's this: we know how to renovate a bedroom closet to maximize space, usefulness, and style. Storage options for our custom reach-in closets include long-hang, medium-hang, double-hang, drawers, baskets, shelves and accessories.
Make the most of your space. Custom reach-in closet designs help turn simple rod-and-shelf layouts into dynamic storage spaces with shelves, drawers, and baskets.
Custom organization solutions. We manufacture everything in-house, allowing us to create a truly custom tailored design for your reach-in closet.
One team from start to finish: Throughout the design, manufacturing and installation phases of your reach-in closet renovation, you'll be working with the same team — ours. Every member of our team is an actual employee and not a subcontractor, and we only hire those who have a true passion for their craft.
Reach-In Closet Accessories
Pull-Out Wire Baskets
Ideal storage for clothing and shoes. Portability and visibility allow for easy access to contents while optimizing your custom reach-in closet remodel.
Drawer Dividers
The ultimate feature idea for organization enthusiasts and a must-have for your reach-in closet design. Organization to store your items in a clutter-free fashion.
Jewelry Organizers
Keep necklaces and other jewelry on display so you can access your favorite pieces easily instead of losing them in a tangle.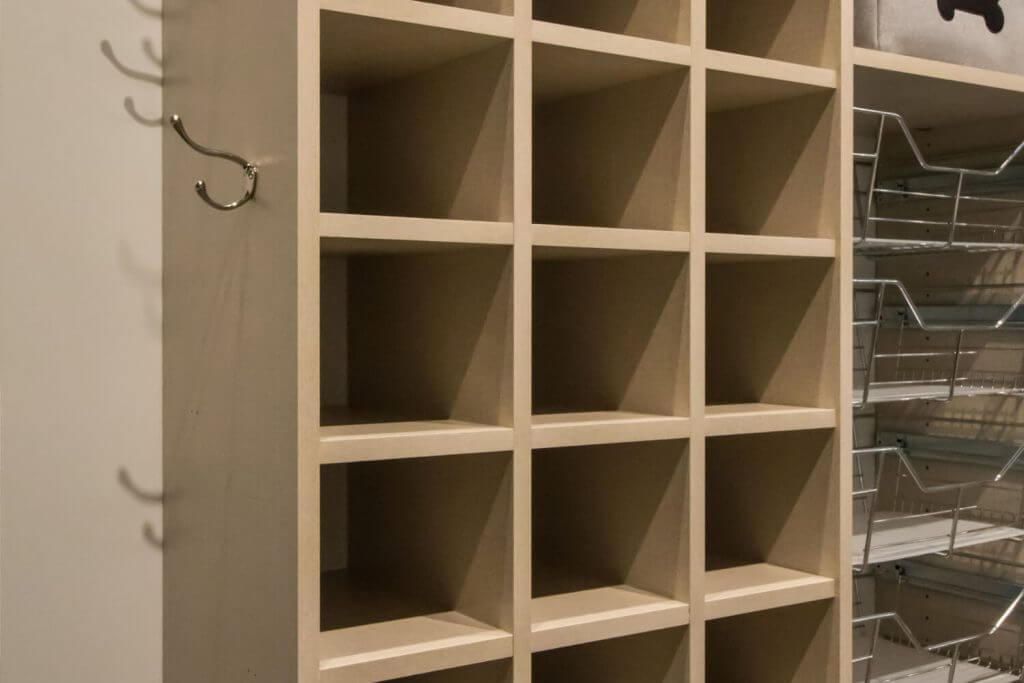 Vertical Dividers
A reach-in closet renovation staple: vertical storage makes the most of small spaces.
Trending Materials for Custom Reach-In Closets
Twin Cities Closet Company upholds our promise of complete customization for every inch of your reach-in closet with a seamless design process. From traditional to contemporary, we offer trending materials for your custom reach-in closet remodel.
A great way to help decide on a material for your custom reach-in closet remodel is to browse in person. Ready to bring your design ideas to life with a reach-in closet remodel? Visit our nearest Minnesota showroom in Minneapolis or Mound to start exploring your custom options.
Request A Complimentary Consultation