Custom Home Office Cabinets & Built-Ins
Getting work done from the comfort of your home.
Work in Comfort with a Custom Home Office
Your home workspace should be an area of comfort where work is productive and hassle-free. Whether your home is in the suburbs or you live in a downtown Minneapolis condo, Twin Cities Closet Company can work with you to create a custom built home office that meets your needs and keeps you focused. If you are looking for customized office cabinets and storage or an office desk with built-ins, Twin Cities Closet Company offers various organizational setups to keep you working efficiently. Our offices range from essential to luxurious spaces and will work within your budget.
Our experienced designers create 3D renderings that make a realistic representation of your ideas. This helps you visualize your dream working environment, complete with custom home office built-ins and cabinets. You dream it, we build it! Our skilled shop personnel will bring your ideas to life by manufacturing and installing your custom home office.
Home Office Cabinets & Storage
While working from home, clutter can affect your productivity. With home office wall cabinets, you can organize your belongings and count on them being in the same place. That makes our home office built-in storage and home office wall cabinet customization perfect for the job. Make your workspace stylish with an office desk with built-ins that improve functionality and productivity.
Contact us at (612) 623-0987 or email us at sales@tcclosets.com to see how our design experts can transform your home office space custom to your needs.
Accessories
Pop-Up Outlets
Pop-up cables offer the benefit of charging without the unsightly cords. The outlets are conveniently designed with a press-to-open feature when it's time to plug in.
File Drawers
Deep, wide drawers will create the space you need to easily store files, laptops and printers all in one place. Available with a locking option.
LED Lighting
Additional lighting helps to brighten up your work area. Brightness is fully adjustable.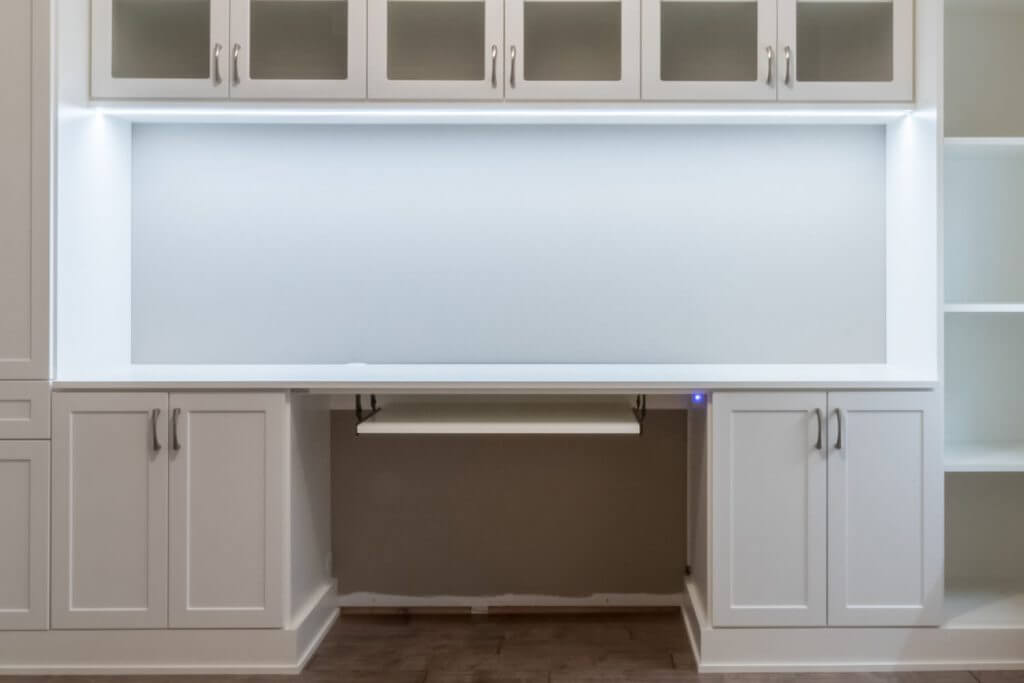 Under-mount Desk Drawer
Utilize every inch of your desk space with an undermount desk drawer and custom home office cabinets. Keep your loose papers, notepads and keyboard out of sight
Materials
Twin Cities Closet Company upholds our promise of complete customization for every inch of your custom home office. From traditional to contemporary, we offer trending materials for home office built-ins.
Request A Complimentary Consultation
Making space for your…life!